Winter Start-Up Inspection: Hot Water [Boilers] Baseboard Heaters
Even, steady and smooth heat distribution is one thing that people love about this heating option. Baseboard Heaters [boilers] are often viewed as a low-maintenance heating option making them a popular choice, and with advancements in boilers and baseboard systems, these heating systems are becoming just as efficient as forced air systems.
However, there is still a level of maintenance that is required to ensure you are maximizing your heating system's efficiency. Our Winter Start-Up Inspection special can help give you peace of mind.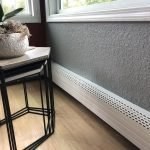 What are the common reasons that baseboard heaters [boilers] break or stop working?
#1: Pumps, controls or thermostat components stop working
#2: Low water pressure caused by air in the pipes impacting radiating heat
#3: Frozen pipes due to cold drafts, freezing temperatures, and inefficient systems
---
A Hot Water or Baseboard Heaters require a boiler to heat the water that is then dispensed into tubing that resides in the baseboard units or flooring of your house.
This heating system relies on various valves to let water in and out of the system. During our inspection, a certified HVAC Specialist will check your heating system to make sure that it is operating at its best.
The following are some of the items that will be inspected:
Pressure gauge
Pipes
Valves, including relief valve
Check for leaks or standing water
Circulating pump & motor
Gas supply, burners, and control valve
Inspect Boiler
Pilot Light/Electronic Ignition
Vent Connection
Draft Hood

Our HVAC Specialist will make notes of any possible concerns with your heating system, that they may uncover during the inspection. This preventative measure may help to identify issues before they require costly repairs or even replacements.
For example, it is often advised to get your heating system purged. Purging your heating system allows the boiler and pipes to be flushed clean of air, which can help prevent lockouts and other heating system failures. It is advised you consider getting your heating system purged by an expert once every three to five years, or as recommended.
Don't wait too long to get your Winter Start-Up Inspection scheduled. We book up fast. Lock in your spot today! 907-344-0700.
Follow us on Facebook