Duct Cleaning: Should I Have Mine Done?
Over time, it is natural for ducts, fans, and registers to accumulate dirt, dust, pollen, and particles. If moisture becomes present, there is potential for musty odors or mold to grow. Many people call asking questions about the process of duct cleaning; when to get ducts cleaned, allergies associated with air ducts, and associated costs.
Duct cleaning is done to remove dust, debris, and allergens from various heating and cooling system components of a forced-air system. During our cleaning process, A Mountain Mechanical Tech, will scrub and vacuum out your ducts using a high-powered suctioning system. Supply and return air ducts and registers, grilles, diffusers, heat exchangers, heating and cooling coils, drip pans, fan motor, fan housing, and the air handling unit housing are all cleaned during this process.
It is highly advised to also have your dryer vents purged to remove lint build-up and dust from your drying system.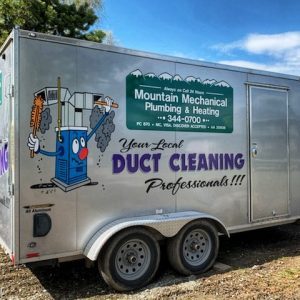 Benefits of Duct Cleaning
Preventative Maintenance – A clean system will run smoother and more efficiently making your furnace work less while extending the life of your system. In a case where furnace filters are not being changed regularly, a cleaning maybe even more pertinent for preventative maintenance.
Safety – Fire Risk: A clean system, including dryer duct cleaning, helps to minimize potential fire hazards and risks. Dust and lint catch fire easily and can increase the speed of which fire spreads through your house.
Health – Air Pollution: A clean system helps minimize air pollution, dust, and pollen, that is pushed into your home environment. Dirty ducts may be a cause of indoor allergies or have other effects on your health.
We suggest you consider getting a duct cleaning every 5 to 10 years.
The cost and time associated with a duct cleaning are hinged on the square footage of your home and the number of registers you have. The level of contamination, access to the heating system, and the request for dryer vent cleaning may also change the quote.
Contact us today! Our quotes are ALWAYS free.